For this Christmasquilt you need the big Poinsettia Block as center, framed by fourteen more Christmassy motive blocks.
The Poinsettia block is 14 x 16 inch size, the fourteen smaller blocks are 6 x 6 inch each. So you can use them for many other Christmas projects, too.
The sashings are worked from assorted strips and some small paper pieced stars in different sizes (from 1 x 1 inch up to 4 x 4 inch) to liven up the design of the quilt.
All blocks are foundation paper pieced.
Some small beads are sewn to the center of the Poinsettia.
These patterns reach from simple up to advanced paperpiecing skills.
The more challenging patterns contain many very small pieces and therefore you have to manage a lot of thick seam allowances.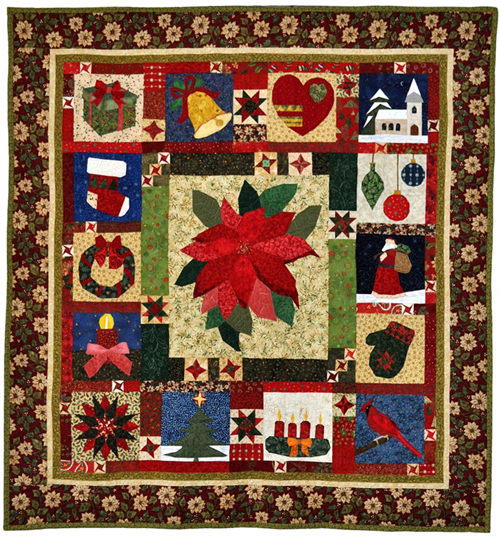 quilt size: 42,5 x 45,5 inch
size Poinsettia: 14 x 16 inch
size Christmasblocks: 6 x 6 inch


Please click on the small pictures to see a closeup of each block:


Christmasquilt
(per e-mail, 20 pdf-files, 10.3 MB)
16.-- USD