It's fun to embroider the Crazy Easter Egg richly with different stitches, beads, buttons and more. Let your imaginations run wild or follow the directions given in the included embroidery instructions.
You can choose your favorite colors for the Easter egg, maybe you prefer yellow and orange, bright red or even white and creme-colored?
If you don't like to embroider, simply take colorful and springlike patterned fabrics.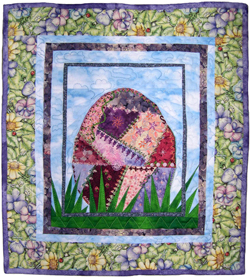 Please click on the thumbnails to see more of the details:
Size of the complete quilt: 16 x 18 inch
Size of the Easter egg block: 10 x 12 inch

Crazy Easter Egg
(per e-mail, 3 pdf-files)
5.50 USD