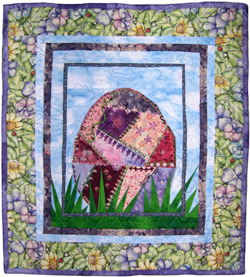 take a look at the embroidery here:
Crazy Easter Egg
Size: 16 x 18 inch
January 2012
machinepieced, hand-embroiderd and machinequilted

I decided to create the crazy easter egg because I love hand-embroidering, but I didn't wanted the project to be too big. You can choose your favorite color for the easter egg, for example orange and yellow will look wonderful, too.
If you don't like embroidering, choose colorful springlike fabrics for the egg.
Pattern available in my patternshop.
Easter Egg Hunt
Size: 21,5 x 21,5 inch
February 2005
machinepieced, handappliquéd and machinequilted
The paperpieced easter eggs are very fast sewn, because every egg consists of only one section. Therefore it will last a little bit longer to handappliqué the border with buttonhole stitch.
Pattern available in my patternshop.