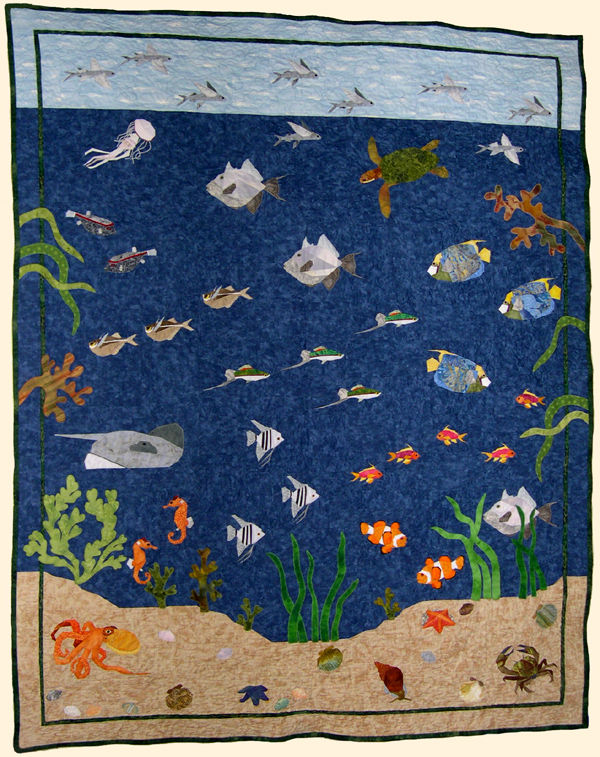 September 2007
size: 62 x 76,5 inch
maschinepieced and machinequilted
This quilt is made of 20 different sea animals in varying sizes. All patterns fit into a two inch grid. The patterns were block of the month from summer 2007 to winter 2009.

Additionally there is a file for appliqued plants and patterns to arrange the changeover from the seabed to the water. In this file you find some ideas for diverse sized sealife quilts, too. So you are totally free to decide what size your quilt will be and which or how many blocks you want to sew.
Single blocks or the complete collection can be ordered in my patternshop.
By clicking on the small pictures a new site will open. There you find an enlarged photo of the block and photos of the sea animals made by the visitors of this side.
Angelfish

Octopus

Anthias

Seahorse

Small Shell

Hatchetfish

Crab

Clownfish

Sea Snail

Swordtail

Ray

Starfish

Boxfish

Turtle

Jellyfish

Flying Fishes

Triggerfish

Ice Starfish

Scalare

Shell

Plants and Seabed
I will be happy, if you send me photos of your blocks - so I will show them at this site, too.
Don't forget to take a look at the finished sea life quilts in the guestgallery