My big quilt of nature consists of 80 blocks around the theme "nature". Therefore I designed eight collections with nine or twelve blocks each. The motivs of the collections are: wildflowers, birds, leaves, trees, butterflies, skies, animals and one add on with bugs and more. Some of them were block of the month through the years 2009 - 2013.
You can order all block collections in my patternshop.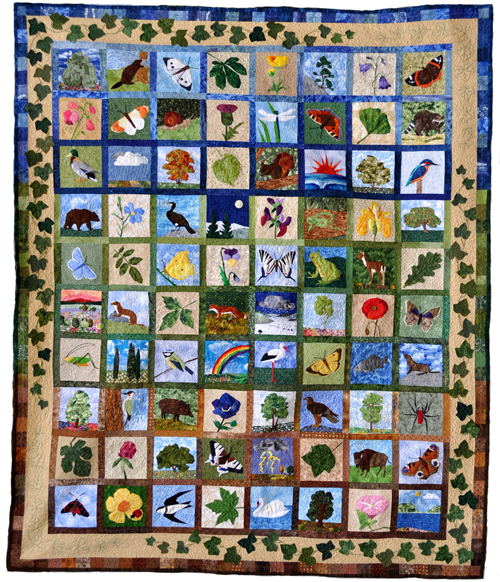 All blocks are 6 x 6 inch size. Some of them are embroidered. These patterns are for advanced paperpiecing skills. They contain many very small pieces and therefore you have to manage a lot of thick seam allowances.
For testing the patterns the California Sea Lion from the set "animals" stays free for download, as well as the general guidance including the ivy border for the quilt.
If you are new to paperpiecing, it's possible to enlarge the pattern to 200 % (12 inch size). Many printers have the opportunity to scale up pages or print at 100 % and use a photocopier for enlargement. Add new seam allowances.

Please click on the small pictures to enlarge them and find all the blocks made by my homepage visitors. Finished quilts can be seen in my guestgallery.
I will be happy, if you send me photos of your blocks!

You can order the series "Wildflowers", "Skies", "Trees", "Leaves", "Butterflies", "Animals", "Add on" and "Birds" in my patternshop.